Best Exfoliators to Use Before Self Tanner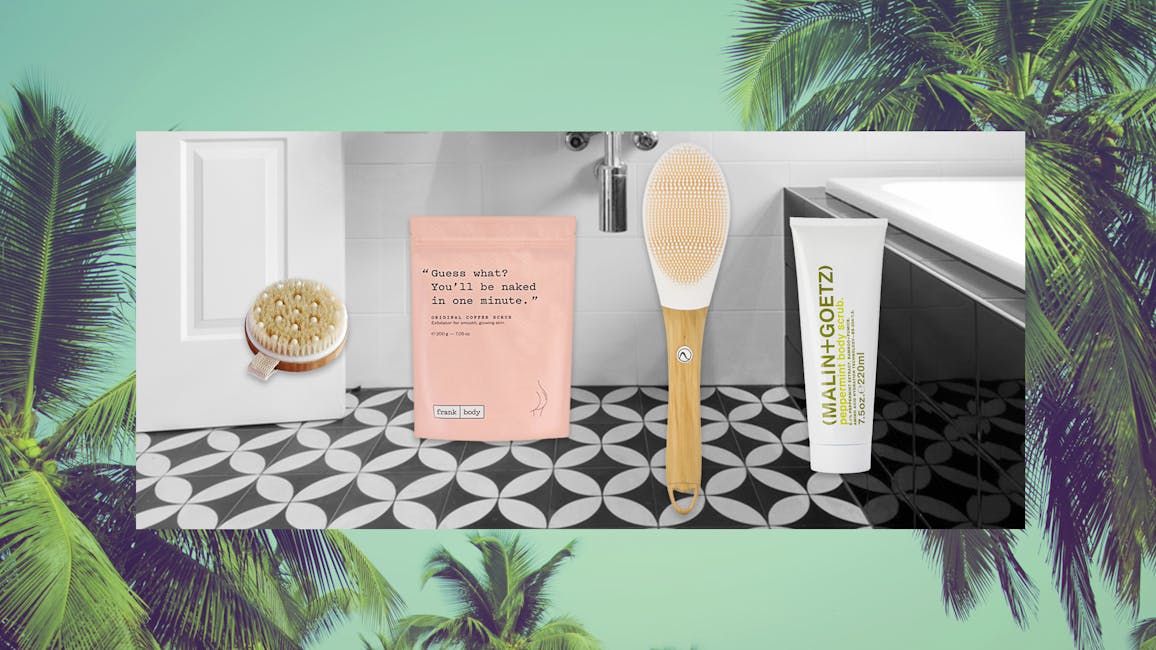 The Insight
What's the secret to getting a beautiful, bronzed tan? Exfoliate, exfoliate, exfoliate! Foregoing exfoliation before self tanning is a huge no-no and can leave you with orange splotches in the most unflattering of places.
Why do I need to exfoliate before self tanning?

If you don't want to learn the answer to this question the hard way, keep reading.

The reason exfoliation before self tanning is so important is because the texture of skin is not even throughout the whole body. There will always be dry patches, oily patches and areas that require a bit more care. When the skin is too oily, it's difficult for self tanners to absorb. When the skin is too dry, the self tanner absorbs too much and sinks into the skin creating dark patches that bring attention to your fake tan.

What are the best exfoliators to use before self tanning?

This is personal preference. Some women choose to exfoliate with their loofa and a scrub in the shower, while some choose to use a body brush. Any combination that works best for your skin is the correct combination for you!

Here are some of our favorite ways to scrub ourselves down before self tanning.

Brushes

The most popular option for exfoliation before self tanning is undoubtedly the good ole loofa. A loofa or a general body brush is the most known option for exfoliation and overall keeping your skin healthy and smooth. This brush is one of the first I ever bought to get my skin ready before self tanning. It's an affordable option for body exfoliation and a great place to start!   

Once you're ready to upgrade from the basic handheld body brush, the Nion Beauty Opus Body Brush is one of my personal favorites for exfoliating! The brush features dual-purpose cleansing and exfoliating surfaces to leave skin glowing head to toe. Nion uses S-Ion technology which harnesses "the power of radiance boosting negative ions to cleanse skin, counteract environmental toxins, and increase overall well being".

Scrubs

Do you prefer a cleansing scrub over a loofa? The Malin + Goetz Exfoliating Peppermint Body Scrub is a rich gel scrub that "helps shed dead skin, stimulate cell renewal, and soothe without irritation, drying, or stripping". This body scrub has always left my skin feel rejuvenated, fresh and comfortable. If you're looking for a new body scrub that's made with trusted natural ingredients, you need this one in your life!

If you're active with beauty brands on Instagram, there is no doubt that you've heard about Frank Body. It's safe to trust the hype surrounding the Australian-made body scrub that took over the internet. Frank Body Original Coffee Scrub lives up to the build up and meshes two of my favorite things: skincare and coffee. This scrub is full of skin-loving ingredients like roasted and ground Robusta coffee beans (that act as exfoliators), almond oil, sea salt and Vitamin E to leave your skin smooth and supple. 

New to self tanning? Take a walk through of the entire self tanning process with the 10 Commandments of Self-Tanner by Allure!