Elevating Beautyblender with Interactive Gaming: A Front Row x makemepulse Collaboration
Brands are constantly seeking fresh, innovative and engaging ways to captivate their audience. This pursuit of creativity led to an exciting collaboration between Front Row's Strategy and Design team and makemepulse, resulting in an immersive and interactive gaming experience that seamlessly blended entertainment and beauty. Let's delve into the details of this unique collaboration and how it brought the new Beautyblender PLAY to life in an addictive arcade game.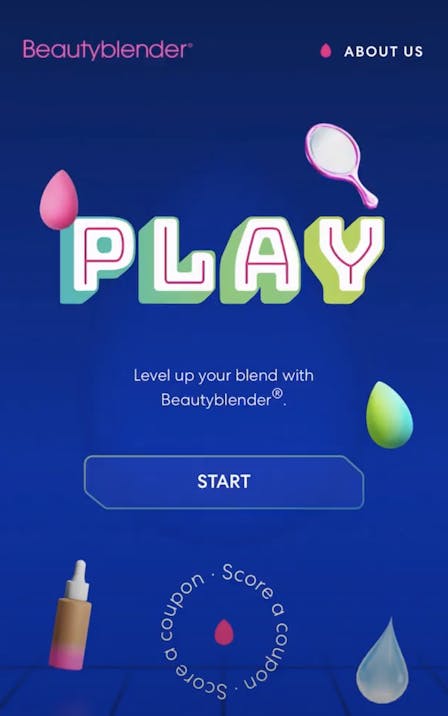 THE OVERVIEW
A Fusion of Creativity: Front Row x makemepulse
When Front Row joined forces with makemepulse, a renowned digital production agency, the result was a dynamic synergy that combined their expertise in beauty, technology, and creativity. The goal was clear: to introduce the world to the innovative Beautyblender PLAY in a way that would not only engage but also captivate beauty enthusiasts.
THE COLLABORATION
Level Up Your Blend with Beautyblender
Our Strategy and Design team worked collaboratively with makemepulse on the strategic blueprint, ideation and execution of the vision for 'Play', leading to the game's core stage — a never-ending platform that challenges players to ascend as high as possible without falling, adding an element of addictive gameplay to the equation. Beyond the thrill of bouncing and avoiding obstacles, players have the chance to collect exclusive Beautyblender rewards, including special offers.
THE RESULTS
Recognizing the growth and popularity of gaming, Beautyblender aimed to engage both new and existing audiences through an interactive game that perfectly complemented their newest product launch. Through this immersive arcade game, the new Beautyblender PLAY took center stage, captivating audiences and introducing them to a transformative beauty experience. As the worlds of beauty and technology continue to intersect, collaborations like this offer a glimpse into the boundless potential for innovation in the beauty industry.
To try your luck playing Beautyblender's PLAY, visit beautyblenderplay.com.