The Insight
In this article, originally written for OMR, our resident CRM expert Antonia Ehrenstein gives you an overview of the top CRM trends you don't want to miss!
The world of customer relationship management is constantly changing: In 2023, efficiency and relevancy are the most important keywords for marketing, sales and service in 2023. New technologies and features make it possible to respond even more individually to customer needs and stay one step ahead of the competition. In this article, Antonia will walk you through the most important trends for 2023 so you can take your CRM to the next level.
CRM Trend 1: Artificial Intelligence
Artificial intelligence has long been indispensable in CRM: in email marketing alone, AI tools are capable of predicting next purchase dates, generating smart product recommendations, analyzing contacts, and much more.

Chat-based artificial intelligence, on the other hand, is a cutting-edge development that has caught the digital world by storm: With tools like OpenAI ChatGPT, you can generate ideas on all kinds of topics, write code, or even tell a customized bedtime story – all by inputting a prompt and pushing a button. Because chat-based AI tools have been trained to understand context, they can personalize content and deliver valuable insights based on the input you give them.

Chat-based AI has been gaining relevance in many areas of marketing for the past few months – including CRM. Although few companies are already working with them, these tools can offer massive added value. Used cleverly, AI can generate campaign ideas, inspiration for email content, lead gen ideas, and much more. In B2B, for example, it can give your sales team ideas for personalized cold messages that leave a positive impression of your brand on potential customers. You can also request optimizations to existing content and then chat-based AI will make changes to text aspects such as word choice, tone, or text structure.

Of course, it's not about the tool doing all the work for you – try it out for yourself and see how AI can help boost your own creativity and provide new inspirations.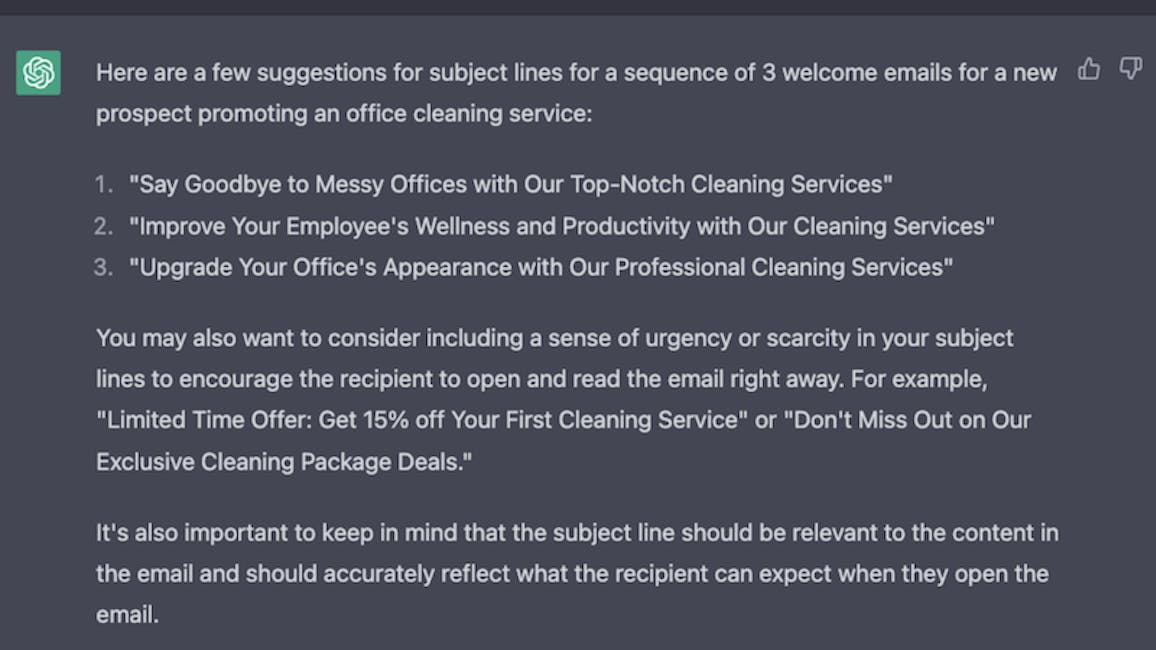 CRM Trend 2: UGC
Customers trust other customers: Over 90% of users rely on recommendations from other people rather than relying on content created by a brand. You can apply these learnings from social media to CRM as well: Have you created or had user-generated content (UGC) created for your brand? Try going one step further and telling a story with it in your emails. Instead of just using static product images and posed photos from shoots, you can occasionally integrate "imperfect" content generated by your users. If you don't already have UGC from users, it's relatively easy to create it yourself. See this selfie example from "Supergoop!":

Ideally, you should show your product in action in a real-life situation. For example, if you sell beauty products, you can show how you use the products. If you offer a software tool, try demonstrating how to use it with a realistic example. You can include content such as user reviews, social media posts, YouTube videos, testimonials, or customer photos in your emails. You can also populate individual emails in your automations with UGC and point them to your social channels. This way, you make your customers feel like they are part of the brand, which in turn increases their loyalty and engagement.

Don't forget to cover your bases and make sure you are authorized to use the content in your emails! Doing your due diligence will be worth it: UGC is a valuable tool to gain the trust of your customers. If you can successfully incorporate this content into your CRM campaigns, you can strengthen your brand's authenticity and likeability.
CRM Trend 3: Dialog-oriented CRM
One type of channel that is growing in CRM is messaging services like WhatsApp. You can use messaging platforms for 1:1 communication, as an interactive newsletter, or both. A big advantage of messengers is their dialog format, which you can use to strengthen customer loyalty. Best of all, you can reach your customers on the same medium that they already use for private communication every day.

Currently, since the channel has only been adapted for commercial use in recent years, there aren't that many businesses who are chatting personally with their users. Trying it out is, however, worth a shot: messengers provide additional benefits such as giving your users an almost effortless way to contact you. Instead of navigating to your homepage or app, looking for the customer support button, and filling out a form with a request, the user simply opens their already much-used Messenger app and sends you a message.

Direct communication isn't the only advantage of messenger services: you can also send hyper-personalized messages using special tools like Charlesautomat. For example, you can send interactive messages in which the user has a choice of different buttons with which he or she can reply with just one click. This feature is a great approach for multi-step preference inquiries.

To best utilize your cross-channel approach, you can promote these channels not only on your homepage, but also in your emails. To gauge the reaction of your target audience to the new channel, try sending an email to engaged users first, which can draw their attention to the new channel.
CRM Trend 4: Using multiple channels
Messenger services aren't the only trend for customer communication: with increasing competition, it's smart to take a multi-channel approach and integrate options such as communicative CRM. What are the main channels you currently use to communicate with your customers? If it's exclusively email, consider what other channels would be useful. For example, use chatbots to answer standard customer questions as a first touchpoint to customer support. With an app, you can easily ask users for permission to send them push notifications and use in-app notifications.

By signing up to communicate on different channels, users expect to receive information. So make sure to provide them with relevant content that strengthens a positive customer experience. In the best case, your messaging on different channels should complement each other. For example, if someone has signed up for both your newsletter and push notifications, don't send them the same welcome messages by mail and push, but coordinate the messages and timing. To ensure you are offering your users added value, make sure you think about a strategy beforehand and set up interlocking automations.

You can also consider using mediums that have grown to be underestimated, such as the postal service (direct mail). It's been a long time since physical mailboxes have been flooded with paper advertising, which makes this channel interesting for marketers again. You'll stand out if you send a postcard and choose a font that looks like it was written by hand. This leaves a personal impression on the customer and doesn't look like advertising at first glance. As a bonus: in Germany, advertising materials which are addressed to a recipient will be placed into mailboxes even if they have the "please no advertising" sticker. However, be sure to provide an explicit opt-out for postal advertising
CRM Trend 5: Automations + Personalization
In Q1, marketers are busy setting new strategies and goals. During this time, reduce the pressure on manual newsletter content and instead build a stable foundation for upcoming months. The cornerstone of successful CRM in 2023 is a workflow that covers the milestones of the customer journey. See where you can make your automations more personalized and where it might make sense to set up new workflows to round out the customer experience.

For example, instead of sending a campaign to particularly loyal customers, set up an automation that automatically sends a "thank you" email with a coupon after the 5th purchase. This saves you time, allows you to reach all customers at the same time in their customer journey, and gives you more options for customizing your content.

Automation and elements of personalization are becoming increasingly meaningful as efficiency gains and a personalized customer experience become more important. Customers want to receive content that is relevant to them. To meet their expectations, you should focus on building content around the touchpoints they already have with your brand: For example, after the newsletter sign-up or account creation, an onboarding automation via mail or push notification can be activated. The customer just bought a product? Send them a mail on the roughly calculated delivery date with application information and product information that is useful for the customer. A few weeks later you can ask them to rate your product.

It is however crucial to make sure that customers are automatically removed from the automation when they are no longer in the appropriate customer lifecycle stage. Once a purchase has been made, customers should be immediately removed from regular onboarding and sent to a post-purchase automation. Also, consider whether it might make sense to completely exclude customers in these two elementary funnels from your regular communication – depending on how many newsletters you send out per week on average.

Beyond milestone events, engagement with specific content offers huge potential to make your communications more relevant to customers. Example: Did a customer log into your app frequently for some time, but then stopped for several weeks? Send them a push notification with a personalized message inviting them to interact. With this kind of smart automation, you remind users to resume their previous behavior patterns.
CRM Trend 6: Leverage smart segments
In 2023, you should also pay special attention to your segmentation. Clustering your customers by interests, for example, is a win-win situation: customers prefer to read and interact with relevant content, so you can expect higher open and click-through rates with smart segmentation. Experience shows that filtered targeting also reduces the unsubscribe rate, because there will be fewer recipients who receive irrelevant messages.

The first step is to look at what segmentation options you have with your tool and which categories you can divide your customers into so that both sides benefit. What data do you already have from your customers that will allow you to better target your messaging?

In B2B, static data might include company size and industry. In B2C, age and gender might be more relevant. But smart email segmentation goes beyond using static data. Consider interactions that customers have had with your brand. You may have information about different touchpoints: Did a customer sign up with you via a landing page on a specific topic? Put automation tailored to the content behind the signup. Did a customer become aware of your brand at a certain event? Group and target this person accordingly and make sure that you invite them to the next event of this type.

If your CRM tool can do it and you are active in ecommerce, it makes sense to divide customer groups into "buys only in the sale" and "buys also without discount". You can do this by labeling your campaigns, for example with tags, and then creating a corresponding segment from your customers. You can send less purely informational content to price-sensitive customers who only interact with sales content. Conversely, you'll send fewer discount coupons to customers who buy from you even without discounts
CRM Trend 7: Template Optimizations
Over 88% of 16-35 year olds use their smartphone to read private emails. Marketers who still deprioritize the mobile version of their email campaigns should urgently reconsider their approach. If your slick designs look great on desktop but rather shabby on mobile, you can use tools like Klaviyo to create a mobile and a desktop version for specific elements. This way, you can guarantee the optimal mobile display even for more complicated elements.

More and more users are using also dark mode, so you should optimize your emails for this as well. One of the golden rules is to use png files for images, as they have a transparent background and thus blend in better with the dark design. In general, you should always test the email on your smartphone before sending it or use tools to view the email on different email clients and devices.