JOURNEY TO THE EDGE OF THE SEA
THE OVERVIEW
AT SHANGHAI'S POWER STATION OF ART, GUESTS TRAVEL THROUGH A RESPONSIVE, INTERACTIVE SEASCAPE, INTO THE HEART OF THE LA MER BRAND
The Edge of the Sea exhibit explores the powerful dynamic and innovative output of two forces coming together, displayed through creative direction inspired by memory. The experience is brought to life through a range of digital and tactile immersive interactions. Just like the ocean, it's a place where inspiration knows no bounds and the curious come to explore.
THE APPROACH
CREATING EXPERIENTIAL DESIGN THAT BECKONS THE AUDIENCE TO TAKE A DEEP DIVE INTO THE BRAND
Using ultra-sophisticated experiential design, we created a discovery-rich space where shoppers could literally and figuratively immerse themselves into the heart of the brand: the alluring and endless mystery of the ocean. A seamless integration of architecture, digital design and industrial design invited shoppers to discover products old and new, as they absorbed the brand history along the way.
INVITING USERS INTO AN OCEANIC FANTASY
THE IMPACT
AN INNOVATIVE DESIGN INSPIRES MASSIVE SOCIAL ENGAGEMENT
Edge of the Sea bridged guests' online and offline experience by allowing them to "check-in" to the exhibition through WeChat by scanning a QR code. In just 10 days, the activation attracted 20,000 visitors and generated in excess of 1 billion social media impressions for La Mer.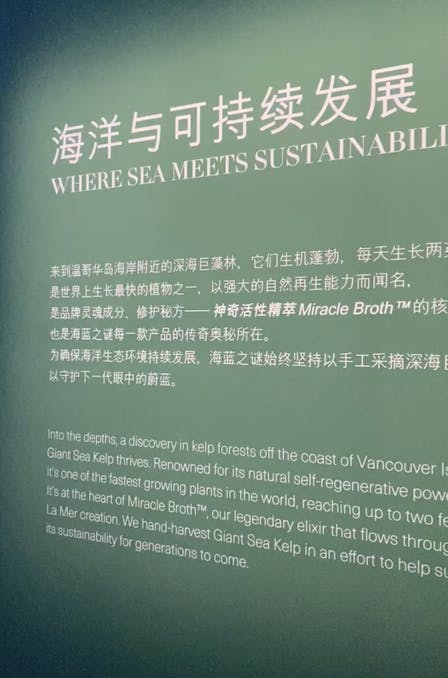 EXPLORING THE IMPACT OF CRÈME DE LA MER'S MIRACLE BROTH