ANONYMOUS BRAND
05.13.2023
WE AMPLIFIED BRAND VISIBILITY AND GENERATED DEMAND IN A NEW MARKET
THE OVERVIEW
The client wanted to penetrate a new market, enhance brand visibility, and cultivate demand. Our goal was to run targeted awareness campaigns across three key geographies (US, UK, and DE), capturing the attention of small and medium-sized businesses. By creating a comprehensive media plan, defining primary and secondary KPIs, and optimizing spend across impactful channels, we set out to make a lasting impact.
THE STRATEGY
A WINNING STRATEGY FOR ACHIEVING REACH, FREQUENCY, AND ENGAGEMENT.
To attain a definite reach with desirable frequency and reasonable CPM, we strategically divided our audience into segments based on intent. High-intent segments consisted of in-market audiences, while low-intent segments comprised affinity audiences. Our primary focus was to allocate more budget to the high and medium intent audiences, ensuring maximum exposure to our target demographic.
THE APPROACH
WE WORKED WITH MULTIPLE CHANNELS AND CUSTOMIZED THE AUDIENCE.
Our multi-channel campaigns spanned eight platforms: YouTube, Facebook, Instagram, LinkedIn, Twitter, CTV, Display, and Online Videos. Simultaneously, we aimed to build a custom audience by nurturing ad engagers, page engagers, channel subscribers, website visitors, and video viewers across the platforms and geographies, employing a distinct set of campaigns.
THE TRANSFORMATION
TARGETING THE RIGHT AUDIENCES.
In the subsequent quarter, we split the existing audience into two segments: high intent and low intent. High intent segments included engagers, while low intent segments consisted of lookalikes or in-market audiences. During the peak phase, our primary KPIs focused on reach, frequency, impressions, and CPM, with secondary KPIs including views, CPV, and clicks. In the sustain phase, our primary KPIs shifted to clicks, reach, frequency, CPC, and CPM, while secondary KPIs included impressions and CPV.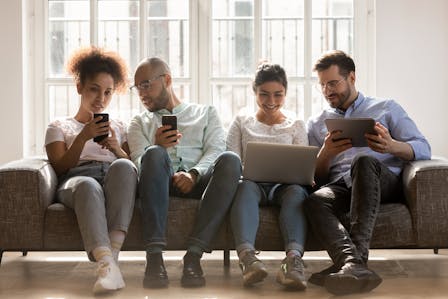 THE COLLABORATION
WORKING TOGETHER TO DRIVE CONTINUAL OPTIMIZATION.
To ensure campaign effectiveness, we collaborated closely with platform support teams, leveraging pre-established benchmarks to gauge our progress against runtime targets. We then conducted brand lift studies across Facebook, LinkedIn, and Display channels—as well as search lift studies across YouTube and Online Video channels to measure success beyond the KPIs. Daily pacing checks and weekly alignments with the client and platforms were conducted to monitor progress and discuss opportunities for growth.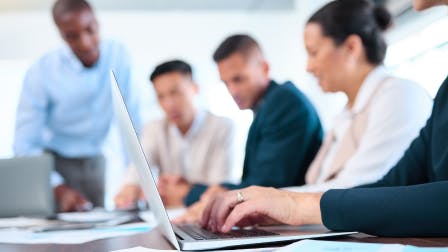 THE RESULTS
EXCEEDING EXPECTATIONS
By applying the above measures, we were able to exceed KPI expectations for 85% of the instances over three quarters. To top it off, we achieved strong numbers for brand visibility and demand in new markets.
0-10MM
increase in engaged users in new markets in just three quarters.
30MM
in unique reach through awareness campaigns across three quarters (estimated).
900MM
awareness ads were served across the reached audience over a period of nine months.