Meet the Beauty Brand Whisperer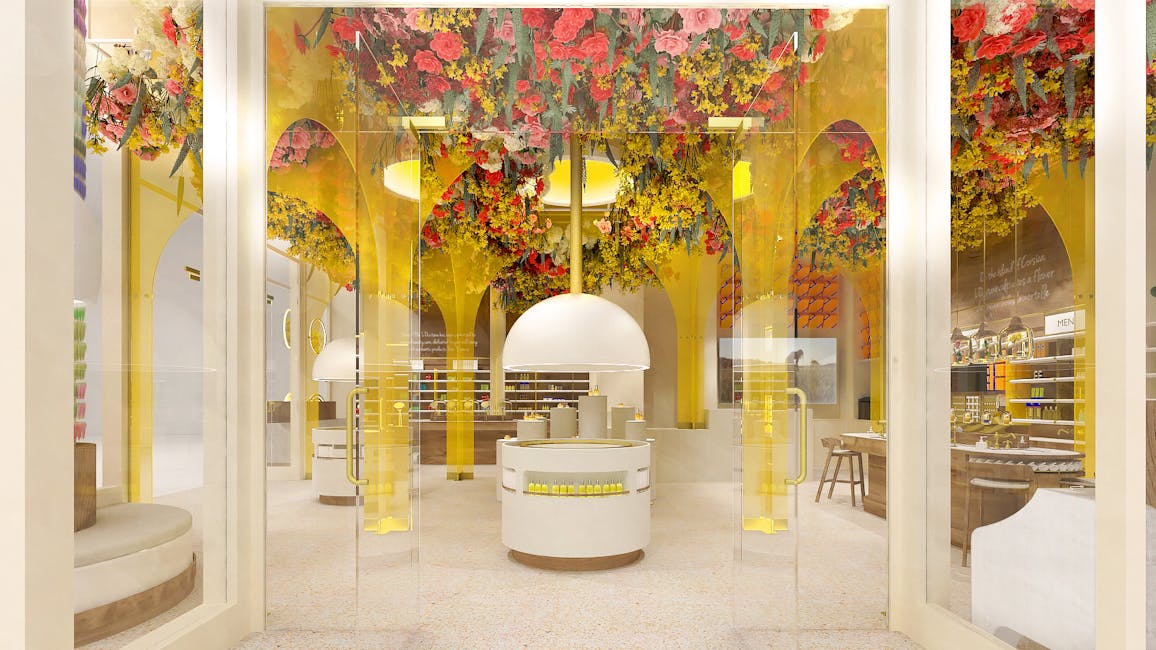 Christopher Skinner is many things—a beauty industry soothsayer, a storyteller, an agile decision maker—but most of all, a brand whisperer

From designing experiential sensorial playgrounds for heritage brands like L'Occitane en Provence and La Mer, to transforming packaging into a joyful unboxing experience for Tata Harper and Perfect Diary, Skinner believes every brand has a story. And he and his team of creatives use branding, strategy, creative production, architectural, experiential, and industrial design to tell it.

Before founding School House in 2015, Skinner garnered an impressive beauty pedigree with stints at Sephora and Space NK, followed by Fresh, where he was Vice President of Global Visual Merchandising, Store Experience, and Design. During his tenure at Fresh, Skinner envisioned a creative agency that used "radical sensitivity" to tell a brand's story.

Before Skinner could tell a brand's story, he needed to learn how to listen, really listen. "When I first started at Fresh I was 27. I worked hard but I wasn't emotionally ready for that role. I remember walking into that group, a very small but talented powerhouse group. I thought 'I'm here to fix this brand.' I wasn't listening. I was stubborn and made assumptions, thinking I needed to know everything."

When an executive pulled Skinner aside to discuss his attitude, it really struck him "to the core." It was at that point Skinner realized that his behavior stemmed from a lack of listening. "I realized I wasn't listening and that I was trying to fill the room with my voice," Skinner recalled. "This was not my brand. I was there as a guardian and it was a group effort."
"I try and listen between the lines, asking myself, 'What is this founder trying to convey?' And then the group discusses it. We are a team of great listeners."
Skinner said that everything changed for him after that point. He became the "quiet guy in the room who listens and takes action." Now, he instills the art of listening into everyone around him. "I try and listen between the lines, asking myself, 'What is this founder trying to convey?' And then the group discusses it. We are a team of great listeners."

For the first couple of years of School House, the agency catered to beauty, fashion, and luxury clients. But by 2017, Skinner felt he could better service his clients by keeping a "narrow focus" on just the beauty vertical, enabling him to leverage his impressive background. "I knew I wanted us [the School House team] to provide unparalleled in-depth knowledge and experience, and that requires focus," said Skinner. "It makes us agile. We don't have to waste time researching a market. Every minute of our time with a client is spent listening and doing."

The listening and doing paid off. School House has seen year-over-year gains in clients, projects, and teams since inception. While the creative agency is most known for big brand projects with La Mer, Elemis, L'Occitane, and Clinique, the creative agency has also applied its branding prowess to mid-sized indie brands like crowd-sourced skincare brand Volition Beauty and Dr. Dennis Gross Skincare, School House's first client and longest relationship.

Skinner and his team are accustomed to evolving with brands' requirements based on the current environment. According to Skinner, the needs of businesses from a branding standpoint has changed since School House's inception, both in terms of consumers' wants and the need for agility in a fast-moving fluid environment. "Future-proofing brands requires traditional strategic thinking in developing the brand's foundation and the ability to flex in an omnichannel, phygital world," said Skinner. "A brand needs to show up native to a channel without losing the DNA of the brand."

And in today's marketing ecosystem, brands "need to think and act like publishers" to be successful. "Content has the ability to create value beyond product that builds trust and with it advocacy and loyalty, but it can be a heavy lift." He suggests investing time up front to develop a content strategy and clearly articulated brand book to facilitate the integration of internal resources and external agencies, igniting consistency and scalability.

When the pandemic hit and School House had to stop production on their retail and experiential projects, the creative agency was forced to return to their scrappy roots of straight-up storytelling. "Everything physical was canceled and we were asked to migrate projects to a virtual space," Skinner explained. "Opportunities shifted in a big way for us in 2020. We knew that to take these projects virtual we would need to tell a compelling story in a way that would surprise people at home." Skinner also said that School House scaled down during the pandemic to work with smaller indie brands, like launching PDL Cosmetics.

While School House pivoted to mostly content creation during lockdown, in June 2020 the Black Lives Matter movement inspired Skinner to announce School House's 1,000 Hours Pledge, in which the agency vowed to donate $150,000 of design hours across all the agency's capabilities to independent Black-owned beauty businesses. Since that time, the agency has partnered with several Black-owned brands including Coloured Raine, ConditionHER, Mad Moisture Beauty, and Ami Colé.

When new beauty brands approach Skinner for advice, he starts by communicating that retailers are not retailing brands, they are retailing communities. "Merchants aren't looking for new lipsticks. They are looking for new audiences that have not engaged, new segments."

Skinner teaches his brand clients his mantra of keeping a narrow focus. "Everyone has skin—that doesn't mean your products are for everyone," Skinner explained. "Brands are scared sometimes of being pigeonholed, but that narrow focus is what makes a brand stand out amongst the sea of everything."

Skinner also stresses to new brands that launching in an oversaturated market means they need to concentrate on their uniqueness. "It's not always about having the best molecule in your formulation, nor is it about fabricating what the audience wants. You need to determine what makes you unique and then define what your audience feels is missing."
This article was originally published on BeautyMatter (link)